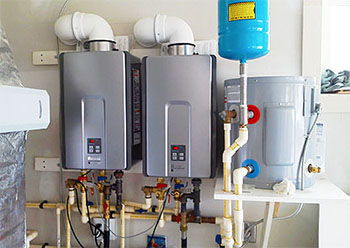 Water Heaters play a big role in your home, they provide the hot water in your home, and are often overlooked. Problems can arise in water heaters, mostly from long term wear and tear. However, in most common scenarios, a small leak of water is the main cause of all water heater troubles. It can easily be missed. It won't be until the water bill arrives, that you realise that your hot water bill has doubled due to the leak.
Hiring a proper plumber can ensure that such a situation will never happen. There are several types of water heaters that have their own unique problems. Some of the many include tankless water heaters, gas heaters, and electric water heaters. Our service will ensure that regardless of your type of water heater, we will fix any and all problems that you may have.
We provide several services, and some that many people don't expect. We provide services such as the following.
Water Heater Replacement/Repair - We inspect your water heater to identify any problems and any future problems that may occur. After the inspection, we provide a full report with details regarding the solutions to said problems. Some examples of such problems are leaks, inadequate hot water, rumbling/popping noise, rotten egg odour, and more.
Water Heater Consultation - We provide consultation services where we can advise you on certain topics. Some examples include suggestions for purchasing water heaters, plumbers, and possible solutions to water heater problems.
Water Heater Inspection/Maintenance - Often a problem can be prevented by simply inspecting the water heater, or hiring a licensed plumber to perform maintenance on your water heater. In some situations, it could potentially save you thousands of dollars in damages and water bill spikes. The key to preventing a water heater disaster is to perform routine maintenance.
24 Hour Water Heater Repair - We provide emergency water heater repair through our 24 hour water heater repair service, and will be there when needed. We have 24 hour plumbers that are waiting for your call, and will be immediately to assist you with any water heater problems.
No one wishes to come home to a cold shower, hiring an expert plumber to fix and prevent any future water heater issues can save you both money and a headache. Don't wait for the problem to occur, hire a plumber now and fix it before it's too late.